If you ever wanted to go somewhere far to unplug, relax and reconnect with your inner child within the southwestern borders, Omu resort is one place I would recommend. Cologeny decided to celebrate her 3rd anniversary by organizing a fun and relaxing hangout for her members. 
After weeks of planning, strategizing and promoting this hangout, 7th of August, 2021 we set out to have such an amazing time. This hangout included feeding, amusement rides, archery, swimming pool, water parks and great memories. 
We arrived at the resort and started activities with amusement rides. Each ride lasted for about 4-5 mins averagely. The amusement rides brought about different experiences as they each have unique features that triggered a different feeling of screams, laughter, fright, excitement, and fun. Moments captures, memories made 
After about three rides, we proceeded to have lunch at the car park where the 10 of us got to know each other better. Nothing brings people closer than food. Exchanging names and attaching faces to the Whatsapp display names we saw so often on the group chat. 
We decided to go kayaking after a brief moment of car park photoshoot with our phone cameras. We had instructors guide us on the right way to paddle the kayak boat. Another fun activity we engaged in was archery. Although, with archery, one needs to have the right aim and precision which needs lots of practice that many of us lacked. It was still fun to learn and practise with, nevertheless. 
After our fun and exciting day at the resort, we gathered together to chill and gist about whatnots. The day had brought forth bonding and relaxation that we needed as a community. It was a day filled with laughter, enjoyment, excitement, a little bit of fright for some people and great memories.
Asides from all the fun that happened, I couldn't help but appreciate the feeling of togetherness I had felt. Even though we weren't a lot and a part of me wished we were because so many people from the community would have had such a memorable experience. I find comfort in knowing that this wouldn't be the last of cologeny's hangout. So watch out for the next one 😉.
Click the image below to watch the full video of the hangout. Leave a comment when you're done 😊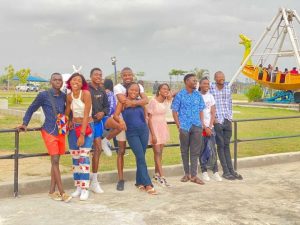 This article was written by Halima Apampa