BY: OLUWATOBILOBA AGBOOLA
We are aware of the need to have an enabling environment, especially for freelance creatives and those working from home. Sometimes, as well as most times, we need a creative space to work and a space for relaxation. Here are 10 locations for you to relax or work without any preference to order:
10. Nest By Kuta
Location: 13 Tegoe Street, Oke – Ilewo Road, Ibara, Abeokuta.
Nest By Kuta is a very conducive place for creatives to work. With the ongoing plan to have a bigger space, KUTA will be home to creatives, enthusiasts, and everyone. #CreArtSpace is currently KUTA's major project.
9. Dabrandcity Media
Location: 19 Lalubu Street, Oke-Ilewo, Ibara, Abeokuta.
Dabrandcity is currently accepting creatives from COLOGENY to come in when they need a creative space for work. Though there's a limit to it, Dabrandcity Media might just be where you need to go next.
8. Lekki Conservation Centre
Location: Km 19 Lekki – Epe Expy, Lekki Penninsula II, Lekki.
LCC is for moments when you need inspiration and can't seem to find it. Nature's gift is an opportunity for you to find answers, it might just be at LCC.
7. NOK by Alara
Location: Alara, 12a Akin Olugbade St, Victoria Island, Lagos. \
NOK Restaurant offers you the awesome beauty of architecture, the calmness of a garden, and the presence of reinvented African cuisine. Taking care of most of the needs of a creative in one space!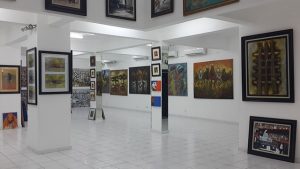 6. Nike Art Center
Location: No. 2 Oba Yekini Elegushi Rd, Lekki Phase I, Lekki.
Nike Art Center might have accommodated a lot of people already and you might think to find a new space, this doesn't neglect the beauty of the center, and the elegance of view that comes with it. You can check it out and your needs might be met.
5. Terra Kulture
Location: Plot 1376 Tiamiyu Savage St, Victoria Island, Lagos.
Terra Kulture offers recreation and a workspace. It also comes with visual and theatre art performances for your nerves to become calm…or for your mind to be inspired.
4. The Mayfair Executive
Location: 4 General Gusau Crescent, GRA, Ibara, Abeokuta.
The Mayfair Executive offers recreational space and workspace for club members. You could get a view that gives you an overwatch feel, you might just need to let go and let the calmness of the space in.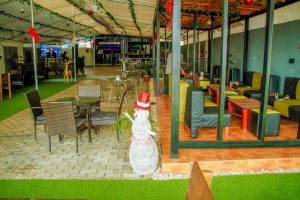 3. B Side Lounge
Location: Quarry Rd, Surulere, Abeokuta.
B Side Lounge offers a feel of elegance with the color and structure of the lounge. You could just find time to relax there or if your work is one for the mind and words, you could see it as a quick planning space for work.
2. RockSpace Abeokuta
Location:  7, Mercy Drive, Off Kuforiji Olubi, Quarry Rd, Abeokuta.
Rockspace is a place for creatives to meet and grow. Ensure you are not going if you don't have a way into the workspace.
1. Bogobiri House
Location: South-West, 9 Maitama Sule St, Ikoyi, Lagos.
Bogobiri house is actually a hotel as you could want more than a few hours and just spend the night. Maybe it was built for creatives because the scenery allows you to ignite your creative side.
I'm well aware that there are some places you have been to that I didn't mention, which space do you think is good for creatives to relax and/or work? Where have you been to before that was mentioned above?